Temperzone has locally designed, manufactured and supported mining projects in Australia and New Zealand. The most substantial consideration is that HVAC equipment must be able to operate under extremely harsh environmental conditions which can significantly unbalance the effective operation of HVAC equipment. Reliability is absolutely critical to protect the investment and maintain production.

The challenges associated with cooling mines includes providing comfort to hundreds of on-site employees; and ensuring the mine's process equipment and electrical switch rooms are kept at sufficently low temperatures. This is critical as the process equipment and switch rooms are the nerve centre of a mine's operations.

High temperatures, high humidity and high salt levels are common environmental conditions which Temperzone designs solutions to counter. These environmental conditions are detrimental to HVAC equipment and not only common to mining sites but also occur in many coastal regions of Australia, New Zealand and the Pacific Islands.

HVAC mining challenges Temperzone addresses:
Application – handle the great range of ambient temperatures
Product flexibility – high sensible cooling applications
Product range to cope with different requirements, whether simple comfort cooling for the mess or process cooling of large switch rooms
Reliability and product quality
Corrosion protection
Manufacturing flexibility to meet specific and varying individual requirements
Back up, support and spare parts
Equipment selection

Temperzone customisations to ensure reliable operation:
Custom evaporator and condenser coils
Head pressure control – modulating
High static condenser fans for ducted applications
Hot gas by-pass as a safety and coil unloading option
High and low pressure safety devices
Low/high coil entering temperature protection devices

Temperzone options to address the harshness of corrosive mining environments:
Powder coating of panels
Stainless steel fixings
Epoxy coated condenser and evaporator coils
Powder coating of fans and scrolls
Units powder-coated a specific colour or electrical panel to meet various site requirements.
Rooftop Packaged Systems

A Packaged Air Conditioner is a reverse-cycle air-cooled unit with the condenser and evaporator in one casing which is normally located on the roof or the ground. The unit is usually connected to ducting which distributes conditioned air and returns it to the unit. There is one unit or more per thermal zone. As the unit is entirely outside the building there are fewer limitations on size and noise and consequently it can be designed to have greater capacity in any one zone than other air conditioning systems.

Temperzone has a high ambient range of equipment, selected at a 45 degree ambient and designed to provide cooling at 52 degrees.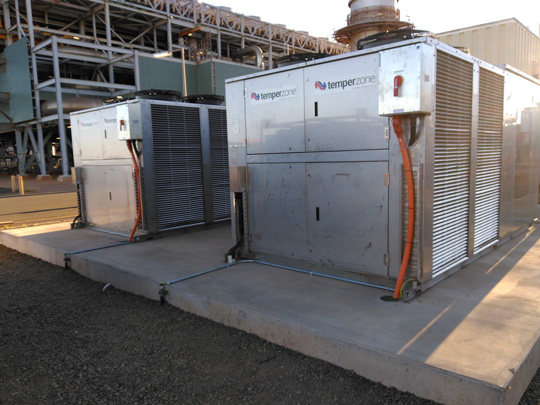 Air Cooled packaged units are common in mining settings and can require customisation to defend against the elements, these can include:
316L stainless steel casing, wiring labels, logos, screws, hinges and door latches
Duty/standby dampers and explosion proof damper motors.
Copper finned, electro-tinned and Blygold coated condenser coils (corrosion resistance)
Upgraded switchboard with:

IP56 rating
Pressurized with cooled and filtered air from evap chamber.
Separated low and high voltage components,
High voltage components covered with a escutcheon plate. Access to circuit breakers has been cut in the plate.
Dirty filter DP switch

Upgraded unit wiring with all cables run within the unit protected with stainless steel and rubber coated conduits.
ArmaChek-R insulation protection on all insulated pipework
Split Systems

Splits, which have an outdoor unit and at least one indoor unit, are the most common form of air conditioners in retail spaces. It is common to have several systems. Each zone has one or more outdoor units dedicated to it connected to either single or multiple indoor units. The outdoor units are usually located on the roof or the ground depending on the space available and the position of the conditioned area within the building.

Temperzone has a high ambient range of equipment, selected at a 45 degree ambient and designed to provide cooling at 52 degrees.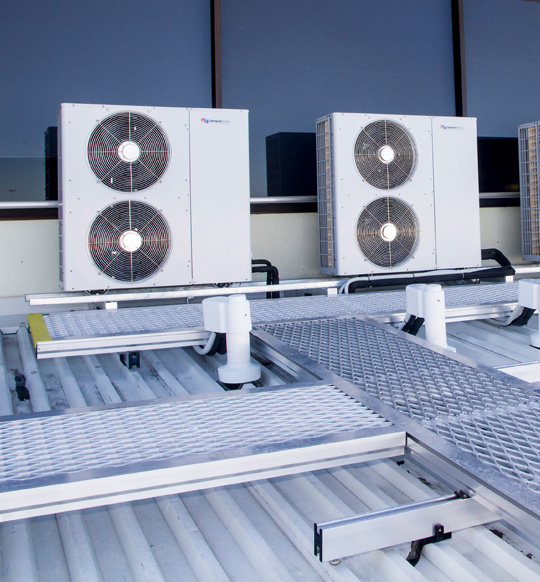 Designed for the harshest conditions Temperzone Econex Ducted Split R32 ducted units are designed to operate in ambient temperatures from -15°C to 52°C to ensure office spaces are comfortable, whatever the weather. These systems are perfect for mining while they provide a low GWP energy efficient solution. With the use of an inverter compressor technology the Econex Ducted Split range provides a precise load variation response and superior part load performance for closer comfort control and higher energy efficiency.