Temperzone designs, manufactures and distributes a full range of air conditioning systems suitable for residentail homes and apartment buildings.

An apartment building is commonly a multi-storied building with two and three bedroom apartments mostly owner-occupied but some possibly tenanted. There is an elected Body Corporate Committee which is responsible for the exterior and common areas of the building as well as the grounds and the shared facilities and amenities. Owners are levied, in proportion to apartment valuation, for Body Corporate costs including shared air conditioning costs. Each apartment has its own power and water meter and owners are responsible
for costs incurred within their own apartment.
Split Systems

Splits, which have an outdoor unit and at least one indoor unit, are the most common form of air conditioners in residential homes and apartments. It is common to have several systems. Each zone has one or more outdoor units dedicated to it connected to either single or multiple indoor units. The outdoor units are usually located on the roof or the ground depending on the space available and the position of the conditioned area within the building.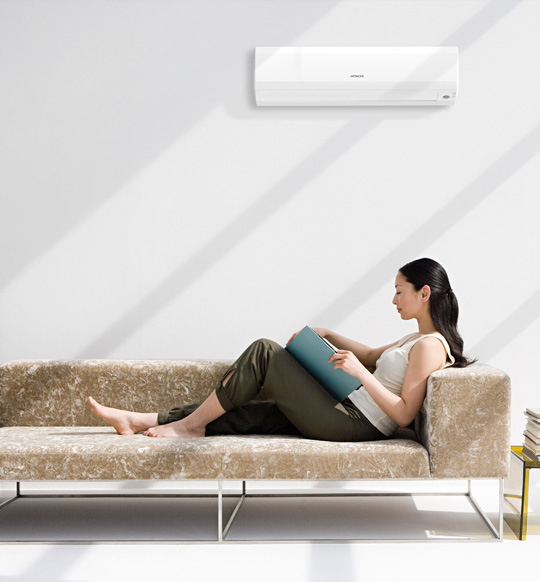 Hitachi Inverter wall mounted split systems have been designed to offer the best possible efficient and effective comfort at the touch of a button, even under extreme outside temperatures.

The latest range of R32 wall mounted systems demonstrate Hitachi's technological leadership, with innovative FrostWash self cleaning technology, power consumption tracking and Eco motion sensor.
Featuring lightweight compact design, Hitachi ducted one-to-one systems are the ideal option when installation spaces are tight and challenging. Incorporating the power of DC technology, Hitachi's ducted range offers stepless inverter control and the ability to achieve superior operating efficiency.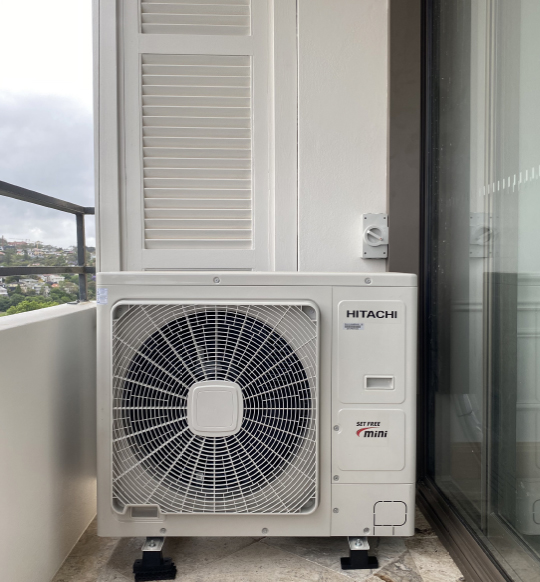 Created with high efficiency in mind, Our MultiZone systems deliver cost effective comfort for your home. Our R32 Multi split systems allow an outdoor unit to be connected to multiple indoor units and therefore cool or heat multiple rooms. Each indoor unit can be managed independently of each other to provide perfect comfort in every room.
Water Sourced for Apartment Buildings

A water-cooled heat pump system is made up of efficient ducted self-contained packaged units, either reverse cycle or cooling only, interconnected via a closed-loop water system. Each unit is individually controlled and responds only to the cooling or heating load of the space in which it is installed. The unit obtains heat from or rejects heat to the water loop depending if it is in the heating or cooling mode. The water loop temperature is maintained within a band using close circuit water coolers (or cooling towers) and boilers, heat pump water heaters or through natural ground or water sources.

Temperzone HWP and CWP water sourced packaged units are energy efficient, compact, very quiet, durable and reliable. These ducted packaged units are available in capacities ranging from 3.5kW through to 44kW. Each unit is available in a number of configurations to suit particular applications and climates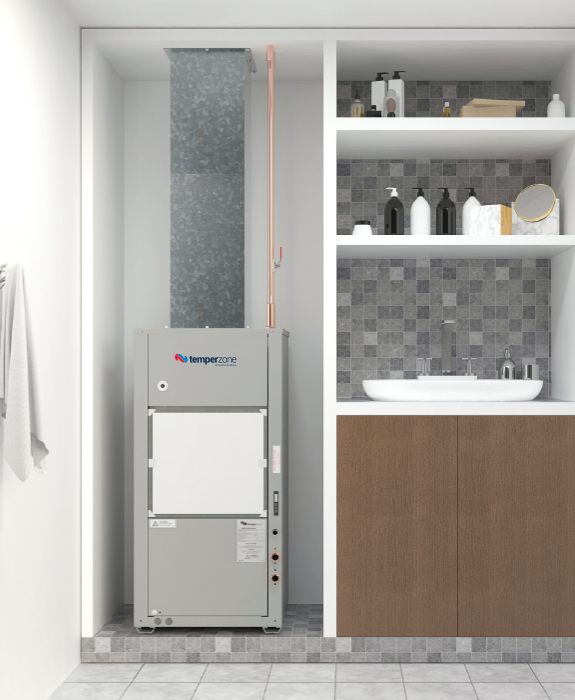 With the use of an inverter compressor combined with an electronic expansion valve, the CWP 90 ECONEX provides a precise load variation response and superior part load performance for closer comfort control and higher energy efficiency.

Utilising R32 Refrigerant, Temperzone's CWP 90 enables a 75-80% reduction of Global Warming Potential (GWP) per kW of cooling when compared to R410a units.
VRF Systems

Hitachi VRF air-conditioning systems have one outdoor condenser set to multiple indoor units. It has the ability to monitor and regulate its own output and control the amount of refrigerant flowing to each indoor unit, which can be of differing capacities and configurations. The system provides efficient individualised comfort control within separate spaces throughout the building.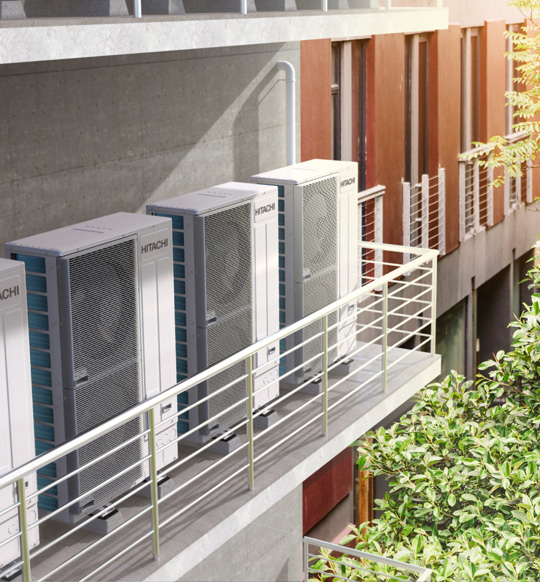 Hitachi SideSmart VRF outdoor unit modules are only 42cm deep, so they can fit even in narrow spaces. Thanks to its slim modular design, SideSmart offers unrivaled flexibility of installation location. Sidesmart are perfect for apartment buildings as they save your building's most valuable area, and place SideSmart in the small narrow spaces of your building. On the rooftop, balcony, or indoors; they can be installed on each floor (eg on balconies or behind a louvered wall) thanks to the powerful outdoor fan that is capable of up to 60Pa ESP).