To help our students achieve their potential and improve learning outcomes, a comfortable and clean environment is essential. Air conditioning creates better air quality in the classroom by filtering the air and clearing toxins from the environment.

Over the years, Temperzone has been involved in projects for schools, colleges, libraries, and universities consisting of Air-Cooled Package Units, Split Ducted Systems, Under Ceiling Cassettes, Wall Mounted Split Systems, and VRFs. In New Zealand, Temperzone has been providing Hot Water Heat Pumps to replace Boilers as part of the country's state sector Decarbonisation Net Zero Emissions Program.
Temperzone Econex Ducted Split systems

Econex Ducted Split systems provide a low GWP energy efficient solution for learning instutions.
With the use of an inverter compressor technology the Econex Ducted Split range provides a precise load variation response and superior part load performance for closer comfort control and higher energy efficiency. With a smaller refrigerant charge and a GWP of 677, R32 refrigerant represents a 75-80% reduction in overall GWP per kW of cooling or heating when compared to R410A systems (GWP 2088). As higher GWP refrigerants face increasing cost due to emissions tax levies the specification of R32 systems will represent a significant reduction in the future costs associated with maintaining these systems.

For versatile specification, all R32 inverter ducted split systems offer a very wide heating and cooling capacity range enabling reliable comfort at times of peak load and increased energy savings under low load conditions. Designed for the harshest conditions these R32 ducted units are designed to operate in ambient temperatures from -15°C to 52°C to ensure classrooms are comfortable, whatever the weather.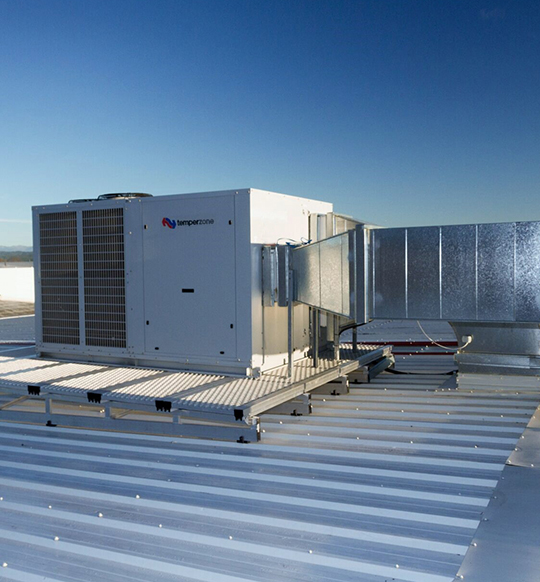 Econex Packaged systems

Many classes occur in large open plan areas such a leture halls. Many rooms have no windows so Temperzone package units can be used to introduce the fresh air requirements. With the use of an inverter compressor technology the Econex Packaged unit range provides a precise load variation response and superior part load performance for closer comfort control and higher energy efficiency. Utilising R32 Refrigerant, Temperzone's Econex Packaged units enables a 71–79% reduction of Global Warming Potential (GWP) per kW of cooling when compared to R410a units.
Underceiling cassettes

With Hitachi on the approved product list for the QLD Cooler Cleaner Schools Program, the installation of 62 Hitachi RPC under ceiling systems and multiple wall mounted systems was recently completed in South East Queensland.

The Hitachi RPC series was a perfect solution. Designed to be suspended under the ceiling, they are quick to install and have easy access for maintenance and service. The unit delivers a wide air distribution which provides a cool, constant stream of air for the classroom.
VRF

North Kellyville Public School in NSW is a purpose built learning environment that includes 40 new future-focused learning spaces and core facilities to accommodate 1,000 students.

The school opened its doors to students for the first time earlier this year, with Hitachi VRF ensuring the students were nice and cool during the long hot summer. The school is a two storey rectangular building with a large courtyard in the middle. The teaching spaces are a range of large open plan areas that face into the courtyard and discrete classrooms that run along the outer perimeter of the building.

Over 20 Hitachi heat recovery VRF systems with 4-way cassette systems were installed. Each cassete system included motion sensors to offset temperatures in low occupancy.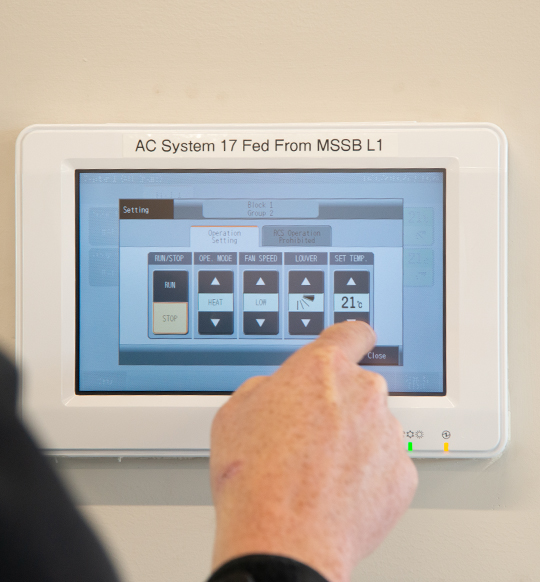 Central Controllers

Control for each open plan space was done through Hitachi touch screen central controllers that are linked to up to 8 cassettes. Ideal for Small scale buildings, the most compact model available within our range of touch panel centralised controllers is the Central Station Mini. Its down-to-detail control functionalities provide energy-efficient features for better monitoring including Weekly Scheduling and Accumulated Work Hours. Up to 32 remote-controlled groups and up to 160 indoor units can be connected to a single air-conditioning system.