Silent, yet, Iconic. The indoor air conditioning unit that makes a statement without making noise. Our award-winning 4-way cassette design panel elevates the aesthetics of your air conditioner, integrating 'silently' into its surroundings.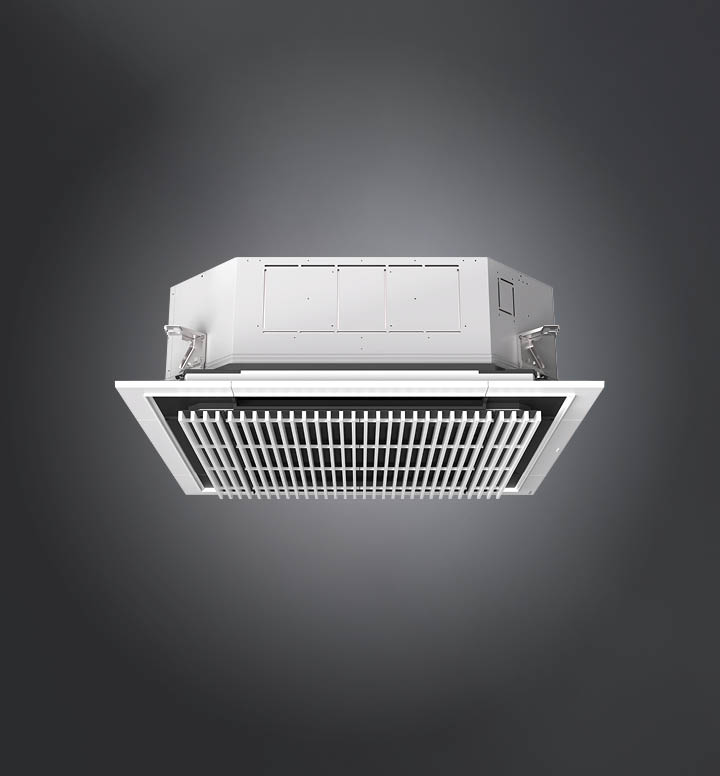 RCI/RAS 4 way cassette
Available in:
Reverse Cycle
Nominal Capacity Range (cooling): kW
7.1, 10.0, 12.5, 13.0
Refrigerant:
R410A
Demand control technology
Already highly efficient, Hitachi Premium Inverter models offer two additional ways to configure systems to achieve even greater energy savings.
An aesthetic masterpiece, crafted to blend in
The contemporary, premium finish of Silent-Iconic allows traditional 4-way ceiling cassette units to fit in with the space's architecture and interior design.

To achieve aesthetic harmony, the Silent-Iconic features streamlined 4-way air outlets that appear as slits, minimising their visual impact. Similarly, the panel which covers the central inlet is louvred to further integrate the unit into overall look and feel of the space.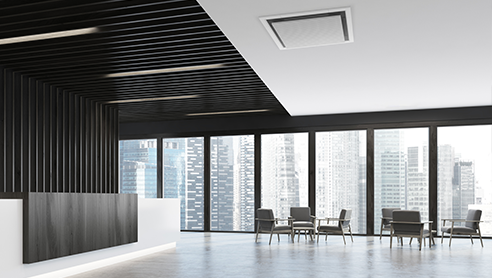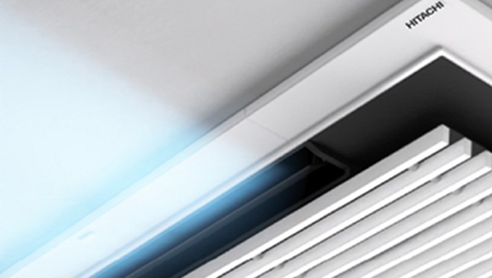 Designed for flexible comfort
The air outlets can be adjusted to direct the airflow in a manner that provides maximum comfort without blowing on occupants or adjusted individually to give each person in the room their preferred cooling experience. Also, the Silent-Iconic™ features our exclusive GentleCool comfort function, which lowers the temperature in the room gently, so you can enjoy premium design and comfort in one.
Built for easier maintenance
The Silent-Iconic panel uses a set of sliding corners to fasten it into position, making it easier to attach and remove than screw-fastened panels.

Filter maintenance is made simple with Silent-Iconic, which can be easily accessed using your controller. With the tap of a finger, you can lower and raise the panel and access the filter when required.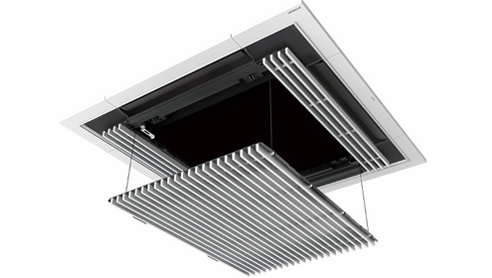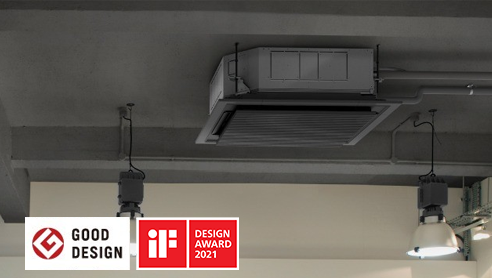 Award-wining product design
Silent-Iconic's™ design is award-winning, receiving two prizes in 2020: The iF Design Award 2020 (Discipline: Product), one of the most prestigious competitions held by iF International Forum Design GmbH that recognises design excellence.

It also received recognition as the winner of the Good Design Award - Special Award 2020 in the Equipment and Facilities for Professional Use category.