---
4-WAY AIRFLOW
4-Way directional auto swing airflow - Left, right and up, down
---
AIRCLOUD APP
airCloud Home is an optional user-friendly interface that lets you create comfort directly from your smartphone or digital device.
---
CLEAN AIR
FrostWash achieves up to 91% reduction of bacteria and up to 87% reduction of mould within your unit.
---
FROSTWASH
A clean heat exchanger not only keeps your unit operating at optimal efficiency, but also keeps the air in your home fresher and cleaner.
Unlock the Power of FrostWash Technology
We want to help you find the air conditioner that best suits your lifestyle.
Our partnership with Hitachi combines innovative global products with local knowledge and support to meet your needs faster, smarter and more responsibly than ever before. With greater efficiency and advanced features, including the eco motion sensor and SPX-RCKA2 controller. The 'S' series offers a premium solution to all applications.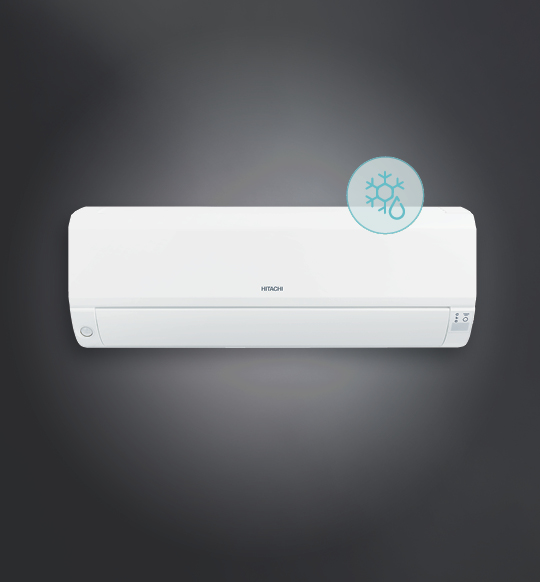 S-Series Wall mounted split systems
Available in:
Reverse Cycle
Nominal Capacity Range (cooling): kW
2.5, 3.5, 5.0, 6.0, 7.0, 8.0
Refrigerant:
R32
The key to better quality air.
FrostWash was first introduced to the Japanese market, receiving overwhelming positive customer feedback.
So much so, the innovators of this development received the "Excellence Award" by the Japan Electrical Manufacturers Association in 2018.
Frost Wash Technology
With Frost Wash, a revolutionary new cleaning technology, you can depend on cleaner, fresher air all year round. The system cools the heat exchanger down to -15° C forming a thin layer of frost from the moisture within the air. While the frost is being formed, it lifts dust particles, mould and bacteria off the heat exchanger and traps it. Once an adequate layer of frost has been formed, the system then melts the ice, flushing away the trapped dust particles, mould and bacteria hygienically through the drain pan.The unit then thoroughly dries the surfaces inside the unit before resuming normal operation.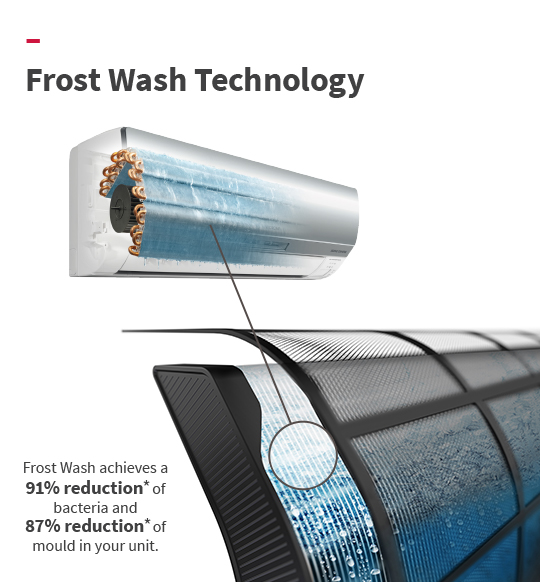 Motion sensor
BUILT-IN MOTION SENSOR WITH MOTION DETECT ECO MODE
The unit adapts its temperature settings depending on people's absence or presence saving you power. The sensor detects human movement when someone is in the room, during this time the unit will remain at the set temperature. Once the unit does not detect any movement for 20 minutes the set temperature shifts as described below, to save you power.

Superior Filtration
NANO TITANIUM PRE-FILTER
For those needing only the purest air quality, Hitachi's 'S' series features an additional Nano Titanium pre-filter as well as the unique Nano Titanium Wasabi air purifying filter.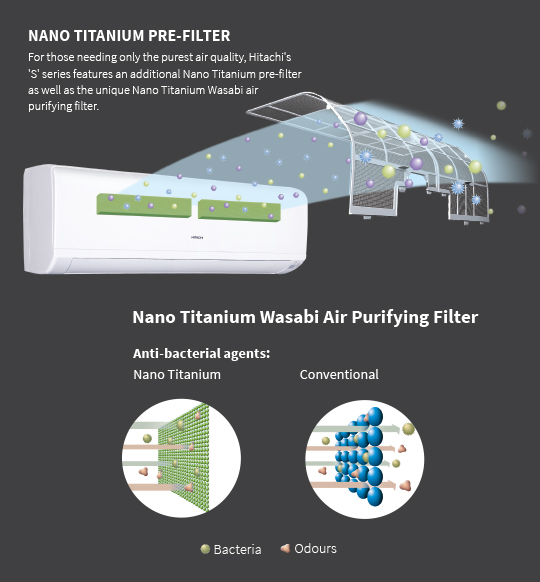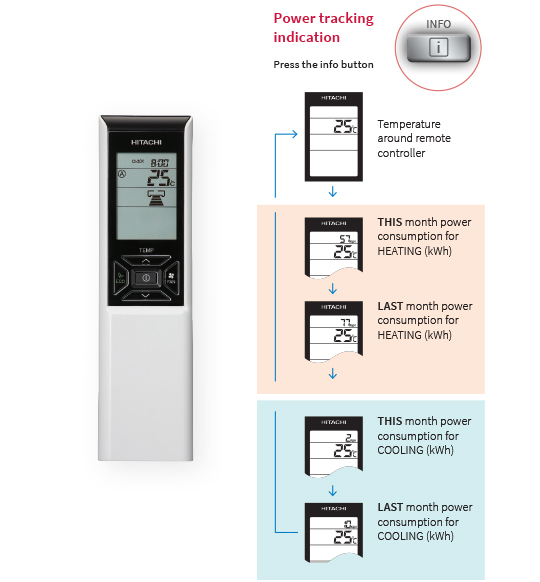 Power Tracking
TRACKING POWER CONSUMPTION
The wireless controller enables you to monitor your air conditioner's approximate power consumption ensuring that there are no surprises when the electricity bill arrives.
Sleep Mode
SLEEP MODE
A function that adapts fan speed and temperature to provide comfort conditioning while you're sleeping,
Sleep Mode also prevents drafts that might disrupt a good night's sleep.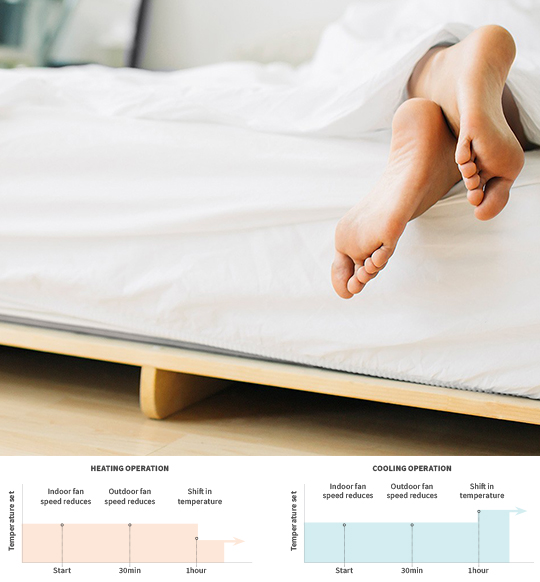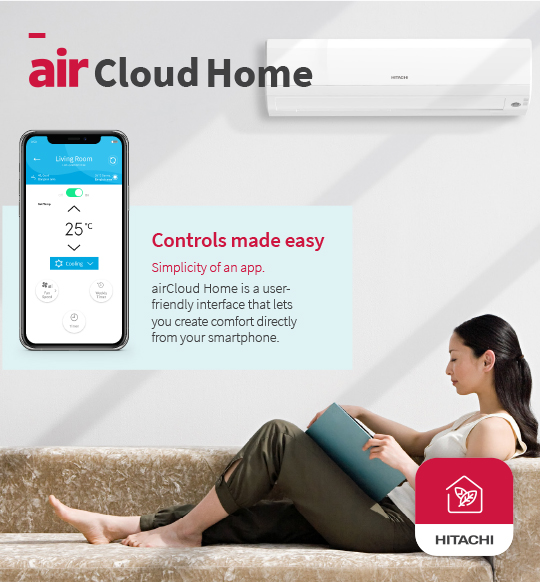 AIR CLOUD WI-FI
A NEW app that lets you control your air conditioner from anywhere. Simplicity of an app. airCloud Home is a user- friendly interface that lets you create comfort directly from your smartphone.
Voice Command
Connect with your smart speaker. airCloud Home is fully-compatible with Amazon Alexa and Google Assistant, enabling you to change the temperature hands-free while you cook, clean, or exercise.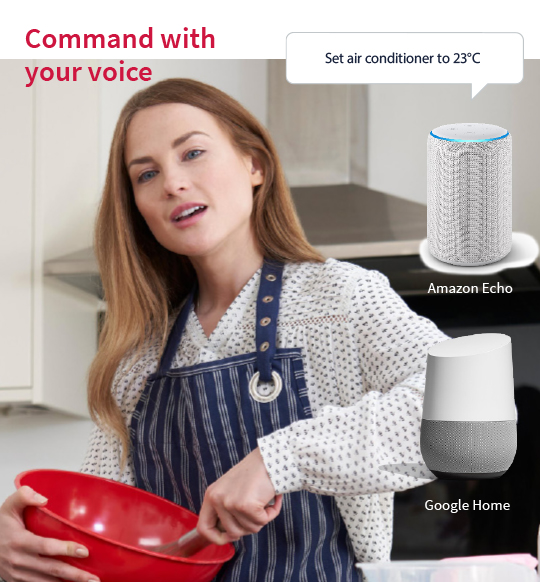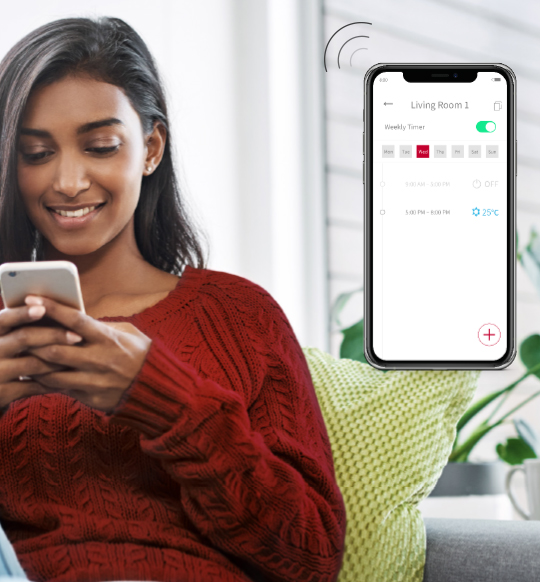 Energy Saving
Plan to save energy Save on your power bills. Easily schedule when your air conditioner is on. Eliminate unnecessary power usage while you are away, then set your air conditioner to automatically turn on when you get back.
Forgot to turn off
Worry no more. With airCloud Home, you can control your air conditioning with one touch, even while away from your home.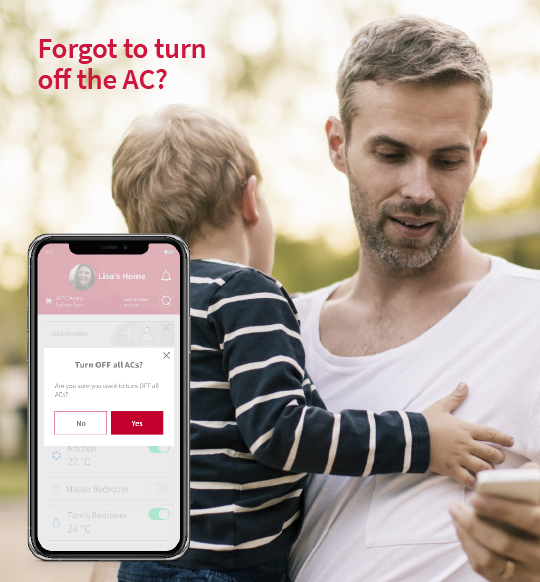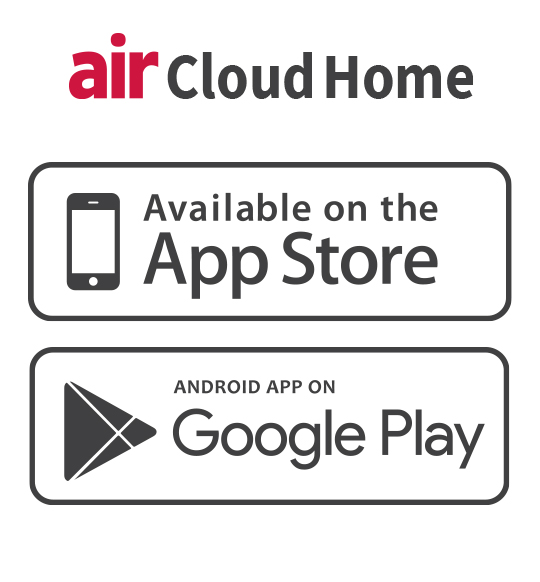 App
Connect your air conditioner to the cloud, via your home wireless network. AirCloud Home Adapter SPX-WFG02 is available as an accessory. The process is quick, and once installed, the user can quickly pair with the app via QR code.