Hot Water Valves
IMI Heimeier thermostatic heads are control units for controlling the temperature in individual rooms and are available in various models.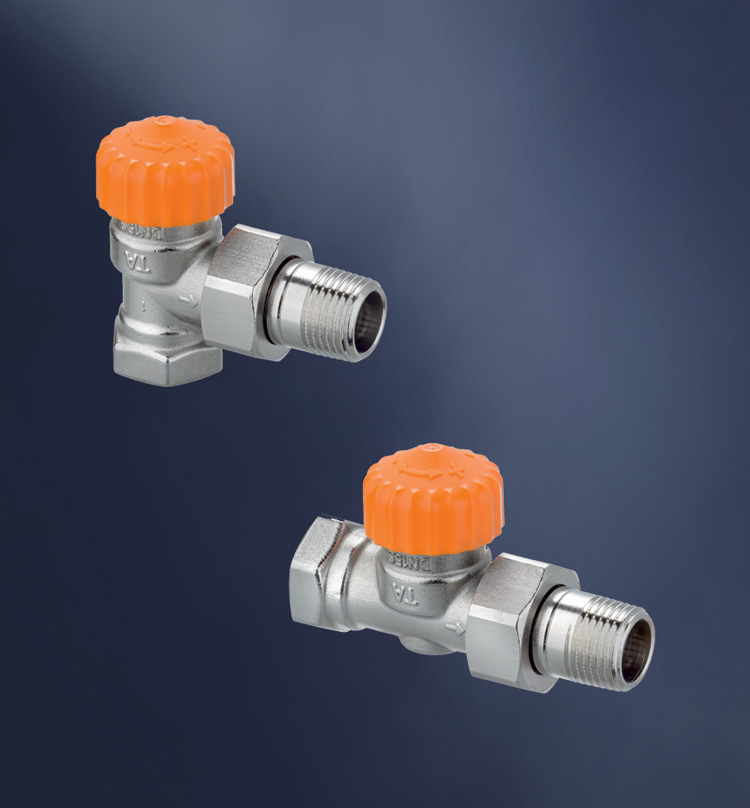 Hot Water Valve Advantages
We design and manufacture industry-leading hydronic products and solutions that give you control at every turn and help create energy-saving, cost-efficient HVAC installations.
For models with a built-in sensor, the actuator, controller, and sensor form a single unit which is the thermostat. This is filled with an incompressible liquid and has high pressure power.
For thermostatic heads with remote sensors, the main part of the temperature-sensitive liquid is not found in the head itself, but rather in the remote sensor. From there the liquid acts on the corrugated pipe in the head via the capillary tube.
For remote dials, the thermostatic head is separated from the valve body and acts on the corrugated pipe in the valve connecting piece via the capillary tube. Central adjusters are remote dials with additional remote sensors.
The groove on the face of the thermostatic heads K, VK, WK and F serves to take up "colour clips" or specially printed "partner clips".
Control Valve & Actuators:
EMO T Actuator
High performance thermoelectric actuator – ON/OFF or PWM control. Used in conjunction with the TBV-C terminal valve or thermostatic valve bodies, the high-performing EMO T actuator offers reliable on/off control and a high enclosure class. A long lifetime is ensured by the unique design. The position indicator is visible from all sides and allows easy maintenance procedures. A high adjusting force further enhances reliability.
Radiator Valves:
Manual radiator valves with presetting
The Mikrotherm manual radiator valve is used in warm water pump heating systems, gravity or low pressure steam systems. The non-rising double spindle with the Mikrotherm presetting cone makes hydraulic balancing through presetting possible.
Thermostatic radiator valve with automatic flow limitation
The thermostatic radiator valve Eclipse has a unique integrated flow limiter that eliminate over flows. The required flow rate can be adjusted directly at the valve with a twist. The adjusted flow will not be exceed even if there are load changes in the system, due to other valves closing or during morning start up. The valve controls the flow rate independently from differential pressure. Therefore, complicated calculations to determine settings are not necessary.
Radiator lockshield with consistent presetting and drain-off facility
The Regulux is used in warm water pump heating systems and air conditioning systems. It makes possible the individual shut-off, drain-off and filling of e. g. of radiators in order to carry out painting or maintenance work, without having to shut down other radiators. The presetting cone which is integrated into the shut-off cone makes a hydraulic balance possible through presetting.
Three Way Mixing Valve:
With or without pre-setting, for mixing volume flows in heating and cooling systems.
Hydrolux:
Differential pressure overflow valve with direct setting value display. Hydrolux is a proportional working, p-band controlled overflow valve with low proportional deviation.