High Performance Low GWP systems
Temperzone Econex Ducted Split systems are leading the way in providing low GWP commercial R32 air conditioning solutions.
Combining the latest inverter technology and R32 refrigerant, our Econex range provides the best of both worlds - increased efficiency and performance - with reduced global warming potential.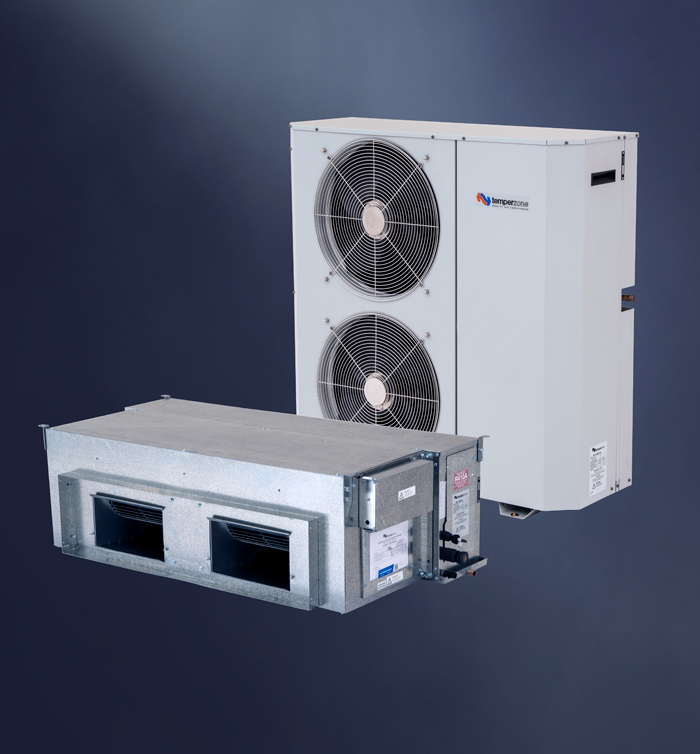 Econex R32 Inverter Ducted Split
Available in
Reverse Cycle (Heating and Cooling)
Capacity Range Nominal kW (Cooling)
14.8 (8.6~18.5), 19.5 (9.4~25.3),23.3 (13.3~29.5), 35.1 (15.0~43.0)
Refrigerant
R32
High Performance
These low GWP Ducted Split systems offer increased performance with extra wide capacity ranges for complete specification flexibility.
---
EC FAN
Variable fan speed control 0-10VDC input
---
ELECTRONIC VALVES
Electronic expansion valves for greater control and efficiency
---
INVERTER COMPRESSOR
Inverter compressor for superior part load performance.
---
R32 REFRIGERANT
R32 refrigerant has a significantly lower GWP than R410a
R32 Refrigerant
With a smaller refrigerant charge and a GWP of 677, R32 refrigerant represents a 75-80% reduction in overall GWP per kW of cooling or heating when compared to R410a systems (GWP 2088).
As higher GWP refrigerants face increasing cost due to emissions tax levies the specification of R32 systems will represent a significant reduction in the future costs associated with maintaining these systems.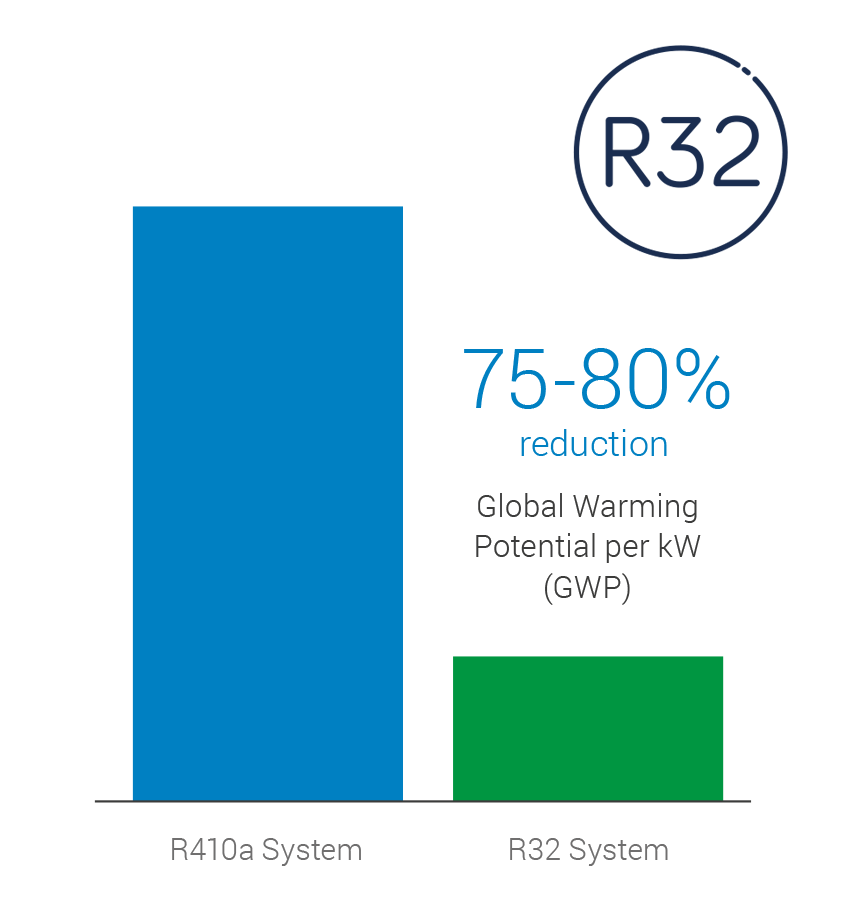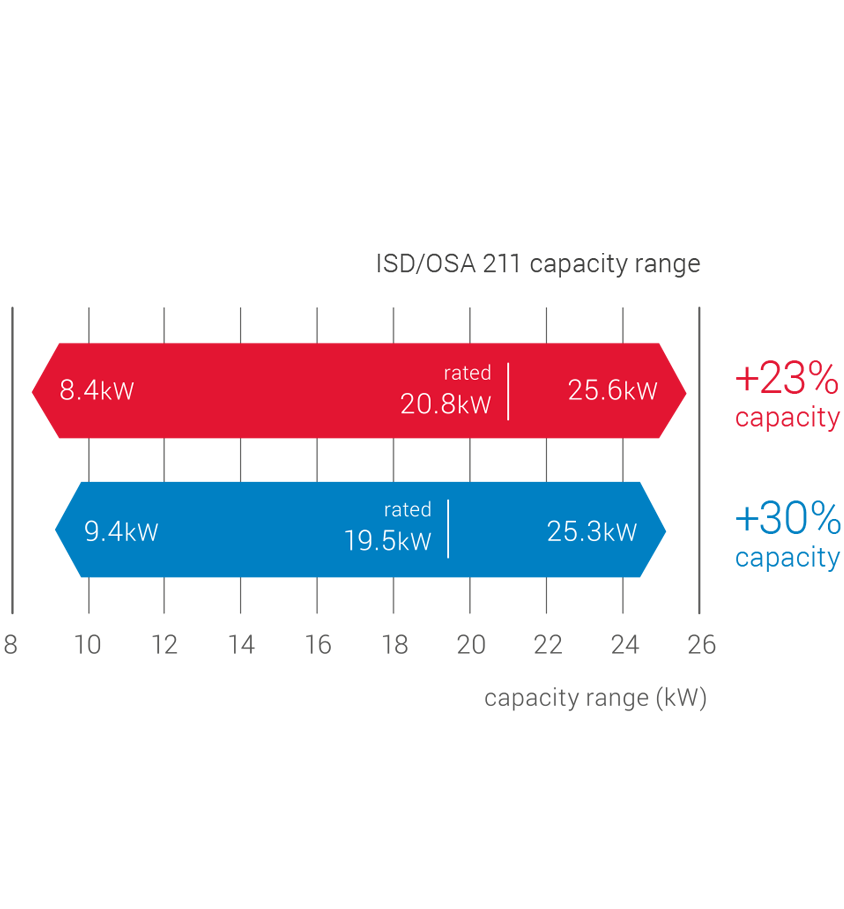 Boosted Capacity
Extreme weather operation For versatile specification, all R32 inverter split ducted systems offer a very wide heating and cooling capacity range enabling reliable comfort at times of peak load and increased energy savings under low load conditions.
Inverter Compressors
Econex Split Ducted Systems utilise inverter compressor technology providing superior part load performance and close comfort control. Our Econex inverter units feature a stepless capacity control that enables the achievement of precise comfort settings. In contrast, non-variable capacity units attempt to maintain temperature by repeatedly switching power on and off, thereby generating greater temperature fluctuations and higher energy use.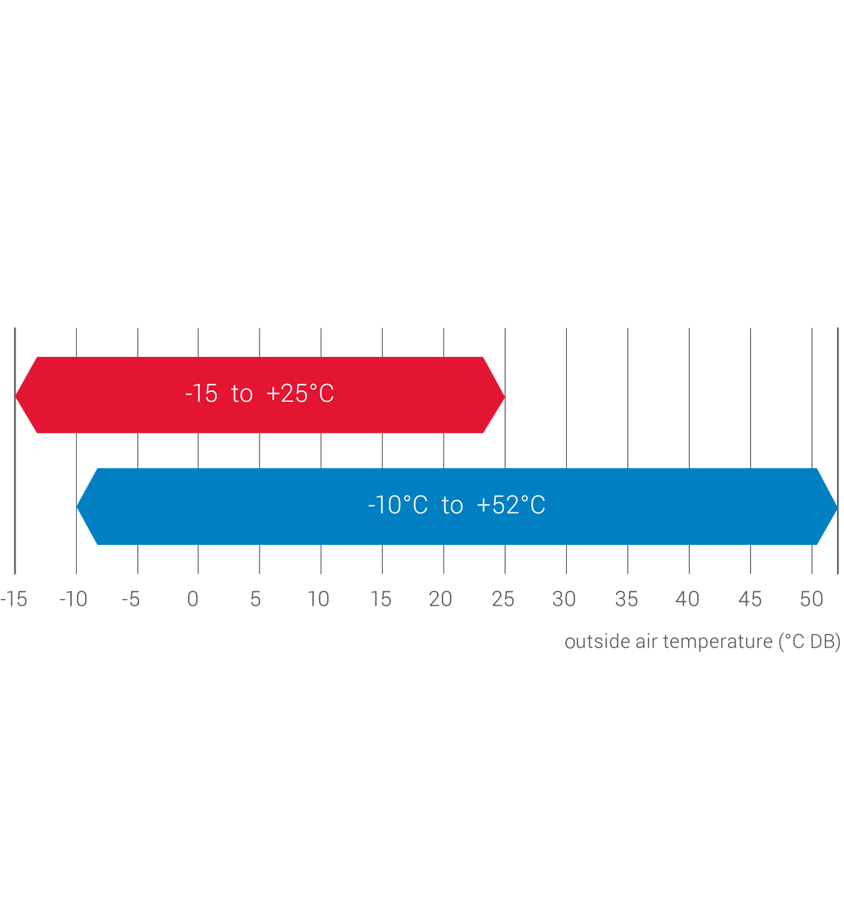 Extreme Weather operation
Designed for the harshest conditions these R32 ducted units are designed to operate in ambient temperatures from -15°C to 52°C to ensure you're always comfortable, whatever the weather
Intelligent De-ice
New intelligent de-ice enables improved performance in colder conditions. Optimised coil circuitry and new unit controller logic has resulted in faster and more effective de-ice.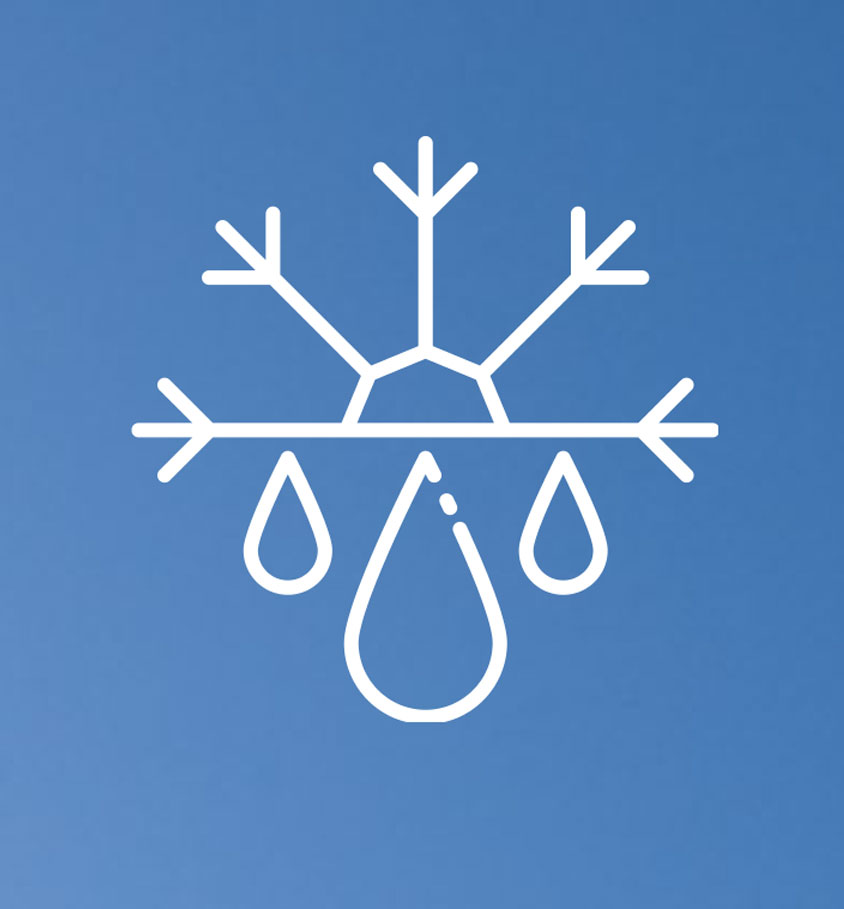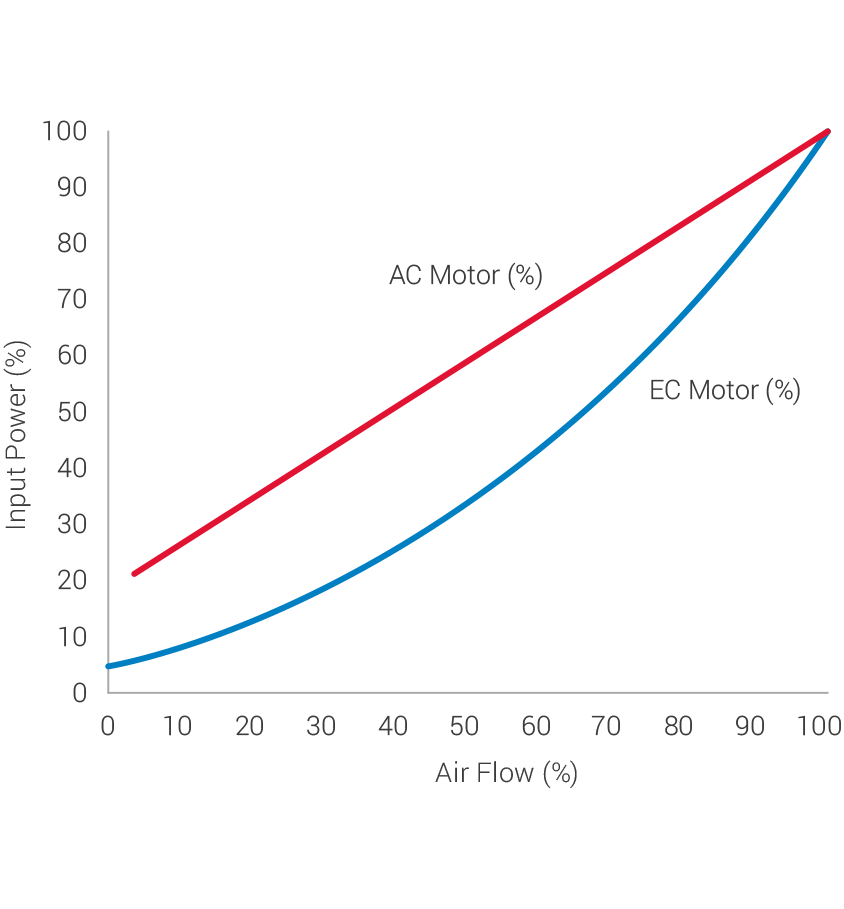 EC Fan Technology
Our high-efficiency EC fan motors are 20% more energy efficient than AC motor alternatives and enable quiet operation with slow ramp-up and no sudden noise changes. Achieve precise comfort with custom select fan speeds or continuously variable fan speed control.
Electronic Expansion Valves
EEVs enable improved efficiency and reduced operating costs at part-load conditions. They also facilitate maximised energy savings during the shoulder seasons – periods in which air conditioning systems often run at part-load.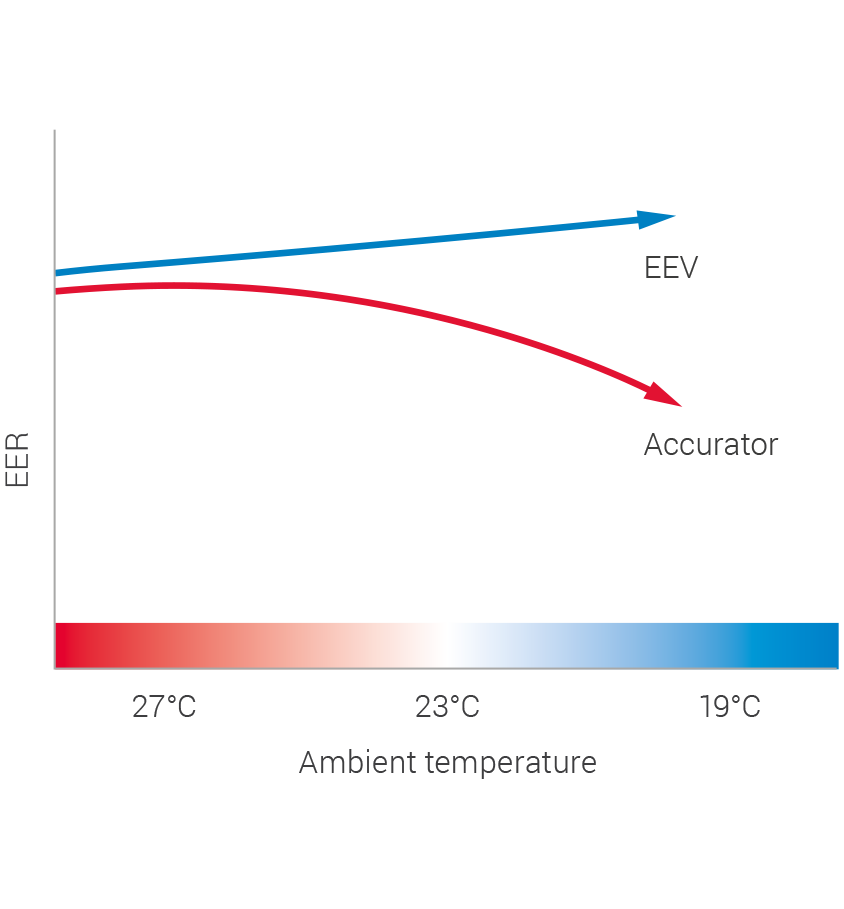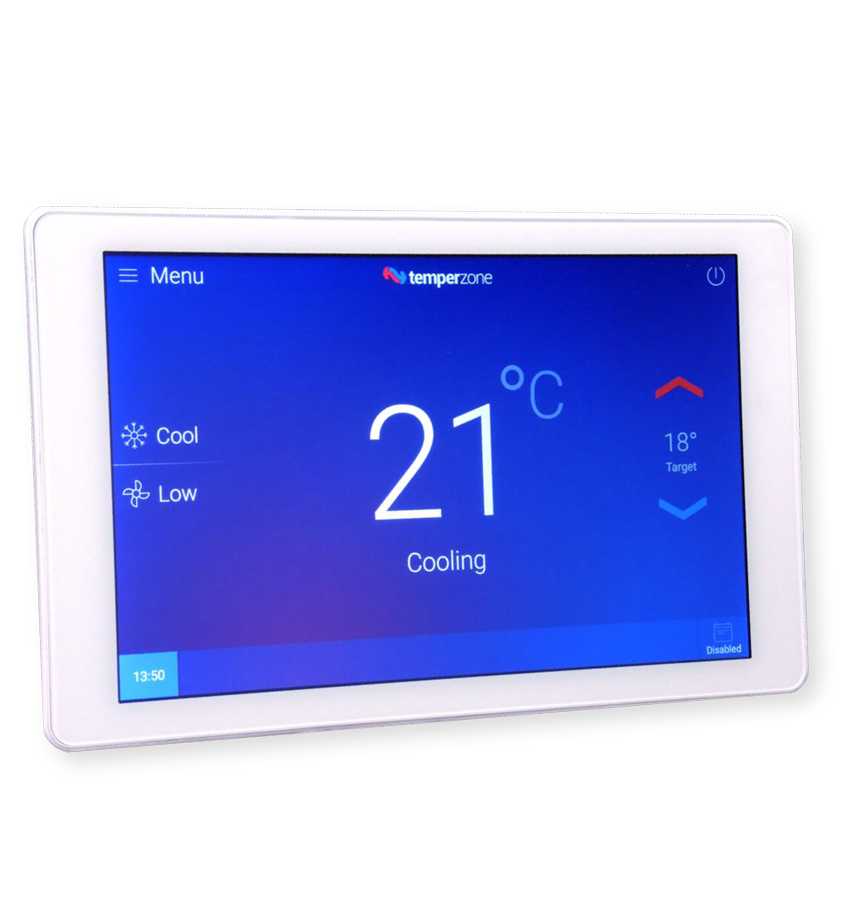 Climate Touch
Temperzone's new Climate Touch gives you complete control over your comfort. Contemporary and convenient, it is designed to seamlessly fit into modern residential and commercial environments while delivering comprehensive yet simple control of your comfort. For convenience the thermostat can be easily wired to either the Indoor or Outdoor Unit.
BMS Connectivity
Econex Split Ducted can connect into a BMS for control and operation.
Through the outdoor unit for multi-unit control capability.
Through the indoor unit for centralised 0-10Vdc fan speed control.
Up to 99 units can be connected on a common RS458 bus in daisy chain design.
Daisy chain wiring saves on amount of wiring and required labour time.
BMS communication cable (2-wire shielded) with maximum cable length of 1000m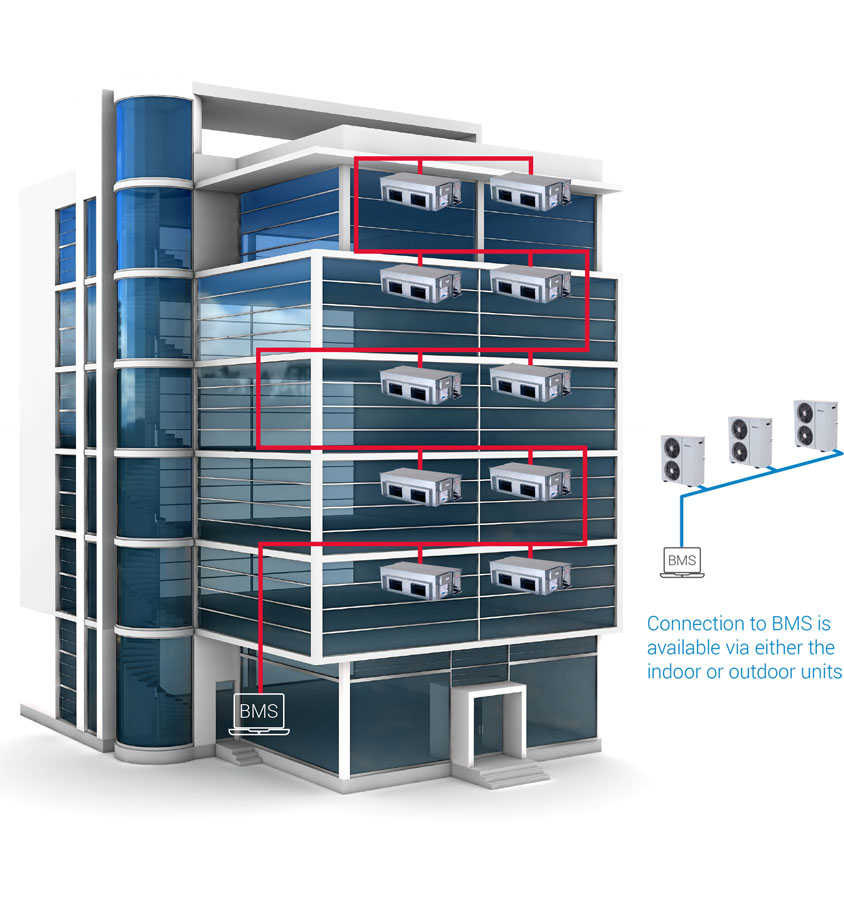 Easy Wiring
Wiring and pipe access is made easy and convenient with a new removable corner access panel for electrical and piping access. Easy installer electrical access with connections more easily accessed through the corner panel. Outdoor units are fully wired and the main power supply along with communication connections can be easily wired directly within the panel.
Zone Control*
Offering a simple and elegant solution to the challenge of multi-zone temperature requirements, Temperzone ducted air conditioning systems enable the comfort levels of designated spaces to be individually set and maintained via one concealed common unit. Using the optional zone relay board which is installed in the indoor unit, dampers and sensors are easily wired into the system where they can communicate with the temperzone controller and outdoor unit for precise zone temperature and airflow control.
* Important note: when designing a zoned system, the smallest zone must meet the minimum space requirements for R32 refrigerant.