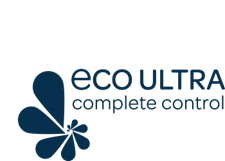 High Tech Game Changer
The ECO ULTRA Inverter Package Unit is specifically designed to target dew point temperature utilising EC technology for energy conscious clientele.

Traditionally, air conditioning is controlled solely on temperature, however, our product is unique as it also focuses on moisture content in air - leading to precise cooling applications. The unit is equipped with 4 refrigeration systems, BLDC inverter-driven compressors and EC permanent magnet fans.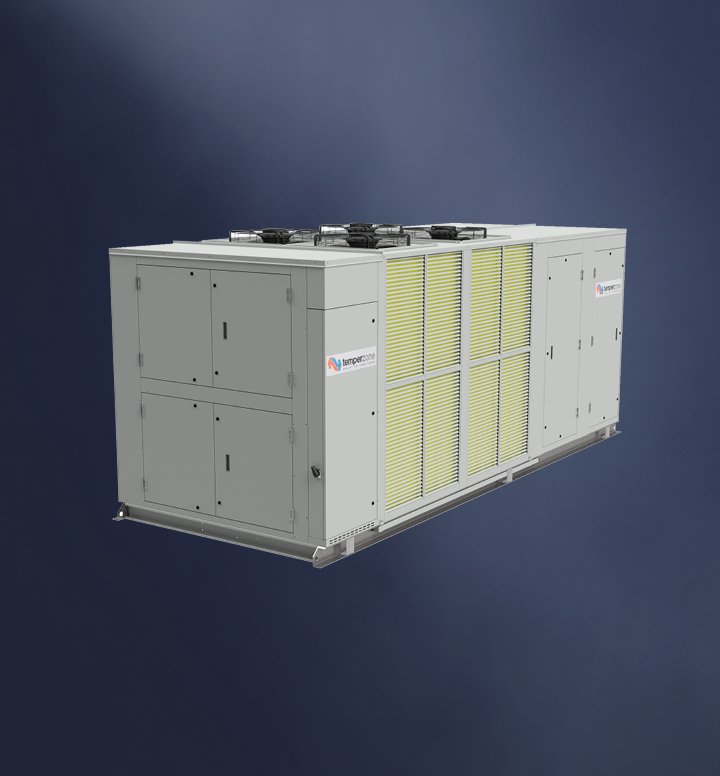 ECO ULTRA Inverter Package Unit
Available in:
Reverse Cycle (Heating and Cooling)
Capacity Range (cooling):
OPA 1400 17.4~148kW
OPA 2100 18~200kW
Refrigerant:
Designed to Impress
The OPA 1400 and 2100, having cooling capacity ranges from 17.4~148kW and 18~200kW respectively, easily and efficiently react to changing building heat loads as required.
This makes for ideal use in a wide range of temperature and humidity-sensitive environments.
---
SUPERMARKETS
Ideal for retail/ supermarket applications
---
INVERTER COMPRESSORS
Four inverter compressors offer superior control and efficient part load performance leading to significant reductions in annual running costs.
---
EC PLUG FAN EFFICIENCY
Featuring EC plug fans that precisely adjust airflow to change in static pressure and provide superior efficiency.
---
HUMIDITY CONTROL
Monitors indoor and outdoor humidity levels and makes its own decisions by adapting different modes.
---
BMS CONNECTIVITY
Modbus or BacNet TCP/IP connection allows you to monitor a wide range of operational parameters, view fault logs and even take control of the unit. 
Globally Recognised Product
Temperzone's OPA2100 Eco Ultra won the prestigious 2020 AIRAH "Product of the Year" Award. The award recognises excellence in product manufacture, with products assessed on their innovation, energy efficiency, sustainability, originality and industry need.

In addition to the AIRAH product of the year, the OPA 2100 Eco Ultra was recognised on an international level earlier in the year. At the CIBSE Building Performance Awards 2020. (CIBSE - Chartered Institution of Building Services Engineers) awards in the United Kingdom, the OPA 2100 Eco Ultra received a Highly Commended Award in the Thermal Comfort Innovation category.

It was also a finalist in the 2020 ARBS Product Excellence Award (Air conditioning, Refrigeration Building Services) Product of the Year awards in Australia.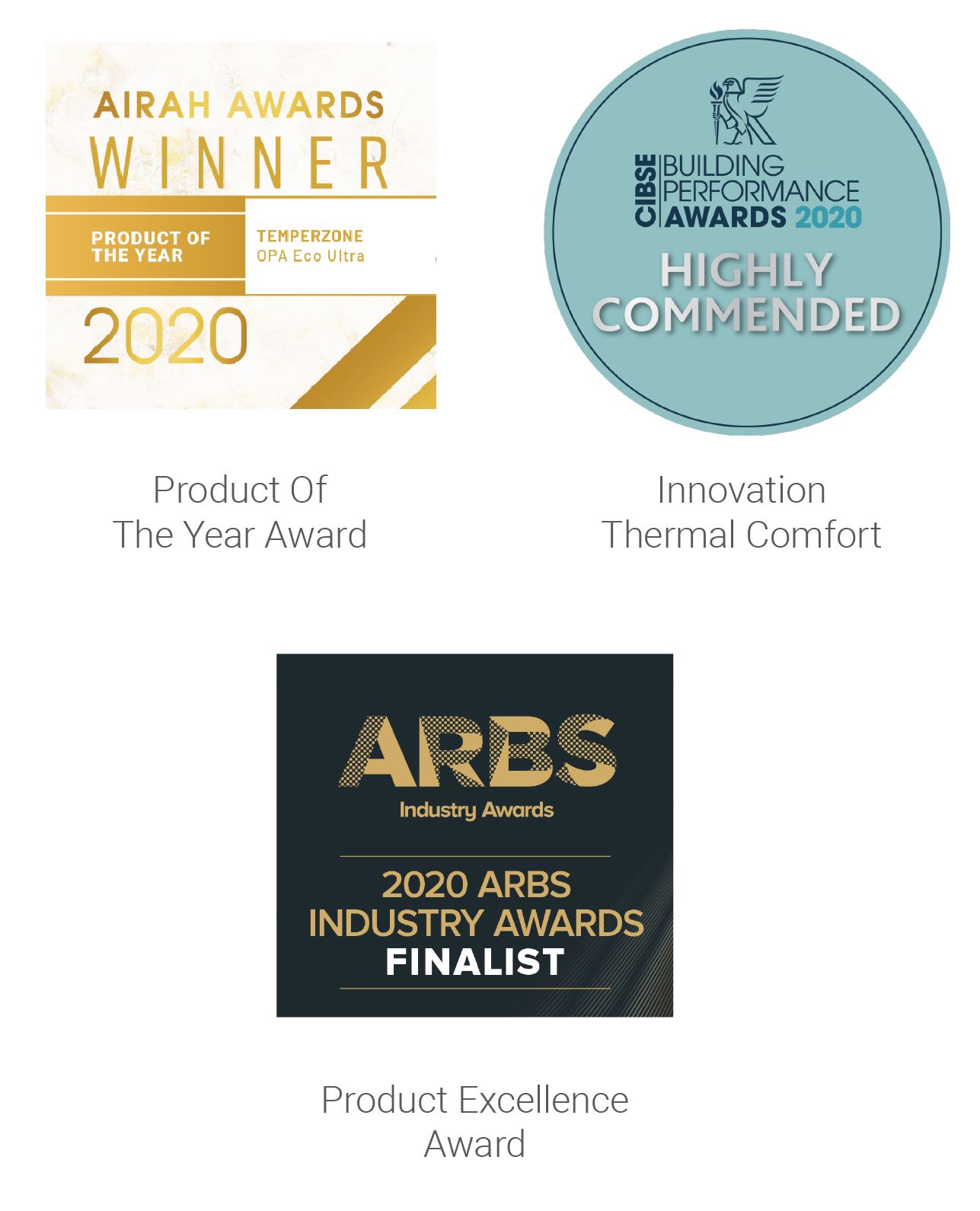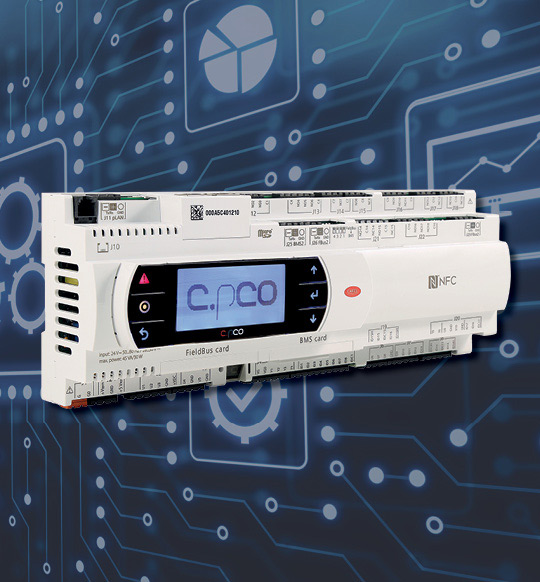 Advanced System Control
Incorporated Adaptive technology ensures that ECO ULTRA is flexible, versatile and extremely user-friendly.

The control offers a unique approach based on an intuitive algorithm that adjusts compressor speeds as the room load changes.

This approach plays perfectly to part load efficiencies by drastically reducing the energy demand on the building and improving comfort conditions due to curbing out extreme high and low temperature fluctuations when a unit is running to meet the target setpoint.
Adaptive Software Logic
The unit considers indoor and outdoor humidity levels and makes its own decisions by adapting different modes.
Autonomous comfort modes:
Heating – Dehumidification
Cooling – Reheat (Available with optional reheat coil fitted)
Cooling – High latent
Heating – Standard
Comfort Zone – Fan only
Cooling – High Sensible
Cooling – Standard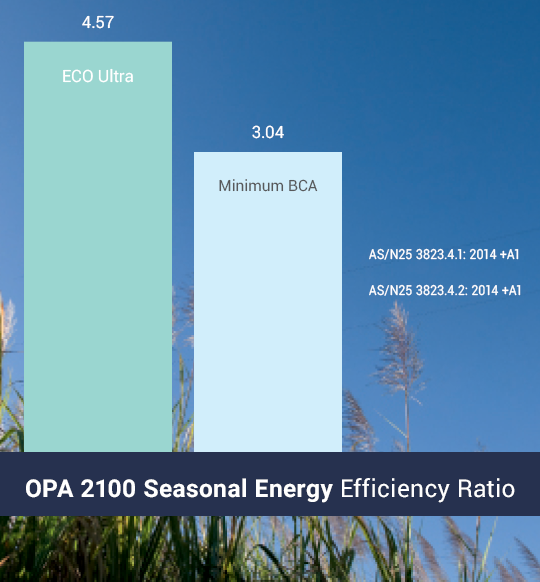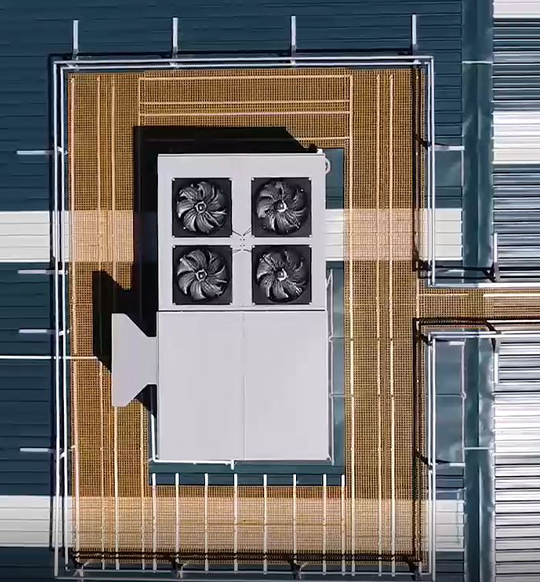 Variable Outdoor Fans
High design criteria to meet tough local ambient conditions
Extended system operating envelope with fully modulating head pressure control
Increased energy savings at part-load conditions with integrated speed control
High fan reliability with soft starting and low air noise
Quiet Mode for noise sensitive applications
Epoxy Coated coils
All Temperzone units come standard with epoxy coated indoor and outdoor coils for added protection in harsh enviroments. For corrosive environments, varieties of lacquered fin stock have been developed as an alternative to the more expensive copper fin stock.
Of the various coatings, for aluminium fin stock, epoxy has emerged as the preferred coating as protection against both chemical and salt laden air corrosion.The controlled application of epoxy, to the aluminium fin stock, results in a highly corrosion resistant epoxy film of only 4-5 microns.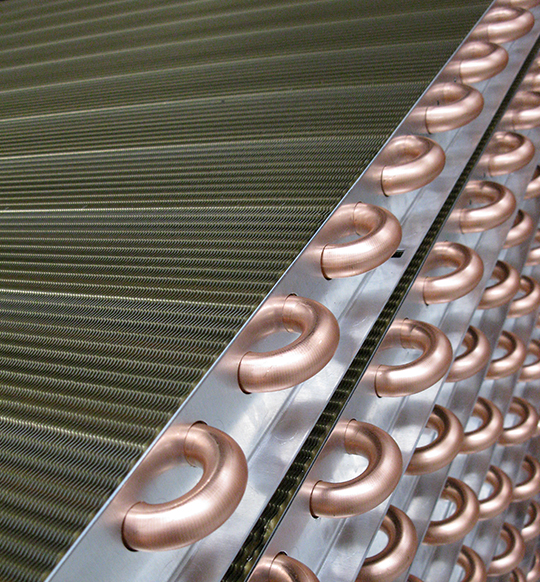 BMS Connectivity
No matter how simple or complex the climate control requirements, temperzone can offer a unit
that can be integrated into the building air conditioning infrastructure.Simplified BMS integration with Modbus or BACnet Communication Protocol.
Economy Dampers (Custom Option)
The controller has a built-in function to control economiser dampers (if fitted).

A temperature and an RH% sensor are fitted in both the return air duct along with the outdoor air.

Based on the measurements and current space conditions, the controller decides which source to use to minimise power use.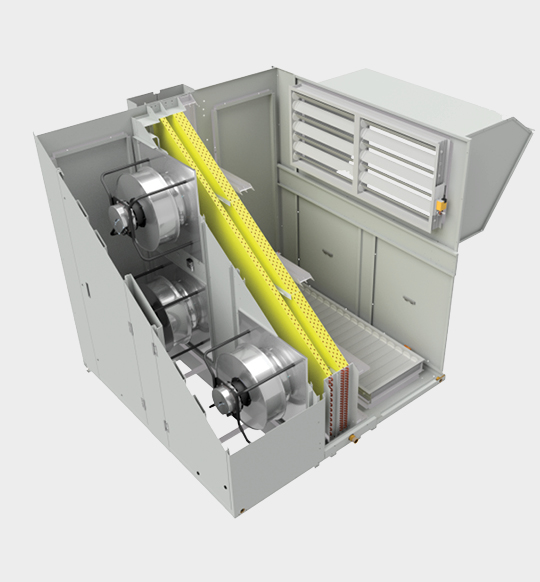 Reheat Option
The ECO ULTRA Series has the option of in-built reheat coils for humidity control, or heat reclaim coils for heating where heat is provided from an external source.

There are many applications where waste heat can be used to provide first stage heating for the conditioned space. An example of this is heat reclaim from the refrigeration racks in a supermarket.

Instead of rejecting heat through an air-cooled heat exchanger, the waste heat can be used in the unit with a heat reclaim coil provided by the HVAC contractor.